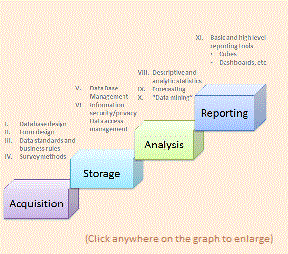 The Challenge
To improve an organization's capacity to leverage data and analysis, a uniformed approach is required -for acquiring data or determining which data are key to enterprise-level operations- that integrates four inter-linked processes:
(1) Acquisition, (2) Storage, (3) Analysis and (4) Reporting
Industry leaders recognize that to perform in the most effective and efficient manner, a company must improve its capacity to collect, manage and use data. When organizations have adequate processes that promote the validity, accuracy, and precision of critical data, they minimize staff burden and redundant data entry, while increase the objectivity and usability of data for analyses and reports.
The Opportunity
CorpHI consolidates data into a central data repository, i.e., the Corporate Data Warehouse (CDW), within which a coherent single data model facilitates reporting and analysis of national, regional and local data.
CorpHI's framework embraces a phased/transactional approach to projects, portfolio of services, solutions, and technology. Key client areas include comprehensive and integrated application environments that provide the transaction processing and data repository capabilities needed to allow this approach to flourish.
CorpHI offers compliance with standards throughout the data use cycle to ensure validity, accuracy, and precision.
CorpHI enables clients and their partner vendors to SEE what they are missing, ACT faster with greater confidence and WIN at the bottom line.